Microsoft's Hyper-V
Hyper-V :
Windows' new hypervisor based virtualization
Windows operating system brought a new virtualization era with the release of Hyper-V which is a replacement of Windows Virtual PC and Virtual Server. Microsoft has given others a run for their money in virtualization world by releasing Hyper-V. In this article, I will shed some light on virtualization with Hyper-V, its VHD file, features, issues and possible resolutions.
Virtualization with Hyper-V
Microsoft introduced Hyper-V, hypervisor based virtualization technology, with the release of Windows Server 2008. Thereafter, it gets upgraded with the subsequent release of Windows server Operating system. Hyper-V provides virtualization environment by creating and running multiple virtual machines on the single physical system. Besides, it is a type-1 or native hypervisor which runs directly on the hardware. To achieve virtualization with Hyper-V, the hypervisor allocates hardware and software resources for all of its guest operating system since they can't access computer resources directly.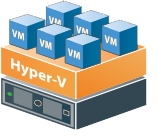 Hyper-V VHD File
Each virtual machine of Hyper-V is saved in a file with the .VHD extension. Virtual hard disk (VHD) stores the entire content of its corresponding virtual machine and gets located in physical hard disk. VHDs are supported by Windows Server 2012R2, 2012, 2008R2, 2008, and Hyper- V on Windows 8. The file with extension of VHD created in the process of virtualization with Hyper-V is the same as we found in Virtual PC or Virtual Server.
Features of Hyper-V
Hyper-V keep upgrading itself with every release of Windows Server operating system and come up with enhanced and improved features. Some of the main features that includes in Hyper-V are:
Hyper-V enables you to take virtual machine snapshot (or Checkpoint) so that you can revert the VM to previous state.
One of the notable feature of Hyper-V is Live Migration which make it possible to move VM from one host to another.
Hyper-V provides Failover Clustering feature which increases the availability of applications and services so that if any node fails then another node in the cluster take over its workload.
The most noticeable feature is Hyper-V Replica which is used to replicate Hyper-V virtual machines in a primary site to replica VM in a secondary site.
Hyper-V Issues and Solutions
Regardless of having so many features, virtualization with Hyper-V encounters many issues and many times problem occur due to corrupt VHD. Some of the common issues are listed below.
Restoring a Hyper-V VM to new Hyper-V host machine can trouble opening a VM on new host.
Resizing can sometime corrupt VHD as it may be possible that it cannot be mounted in Hyper-V.
Converting from dynamic VHD to fixed size VHD can cause disturbance in database and VM gets corrupted.
It is inevitable that in the process of virtualization with Hyper-V, data become inaccessible if it has been corrupt, damaged, deleted or if VHD itself gets corrupt. In such situation, it is worth using a tool known as VHD recovery software which quickly recover lost, permanent deleted data from corrupt or inaccessible VHD.